Weathering whatever New England throws at you.
From Nor'easters to summer thunderstorms, every second and decision counts. The best way to stay safe is to be as ready as possible beforehand, and know what to do when the storm hits.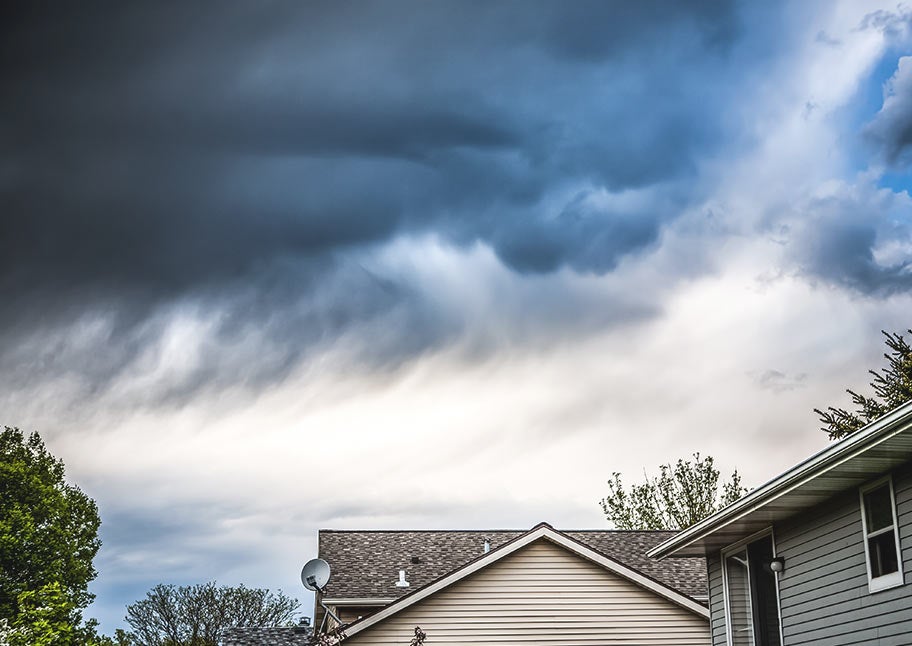 Do you or a family member utilize electrically powered life support equipment?
Please submit a Physician's Certification form now so we can include that information on your account.
Monitor your emergency supplies and equipment. You need to be prepared for an extended power outage.
Keep your freezer closed. A full freezer will keep food frozen upwards of 36 hours — half-full, about 24.
Stay warm. Cover your head, hands and feet. Several layers of light clothing work better than a single heavy layer.
Do not use an unvented kerosene space heater inside your dwelling. A fireplace or additional layers of clothing are better alternatives for staying warm.
Do not use a gas range to heat your home.
Shut off or disconnect lights and appliances. If many appliances come back on at once, it could cause an electrical overload of your circuits.
Be aware of carbon monoxide poisoning from gas appliances. Learn more about the signs of carbon monoxide poisoning.
When the power goes out and the heat goes off, hypothermia is a serious concern—symptoms include confusion, dizziness, exhaustion and severe shivering. If you begin to experience these symptoms, seek medical attention.
Go indoors to get out of the cold.
Remove cold, wet clothing.
Use warm blankets to begin restoring the body's temperature to normal.
Warm your core body temperature by using a blanket and by drinking warm fluids.
Dehydration is dangerous and, unfortunately, is less noticeable in cooler temperatures.
Several factors contribute to maintaining normal body temperature – air temperature, wind, clothing, intensity of activity and the body's ability to adapt to compensate for the cold environment.
Here are some tips to prevent hypothermia:
Avoid being outdoors during the coldest part of the day.
Reduce the intensity of outside activities and take frequent breaks.
Dress appropriately for the environment and your activity level.
Dress in layers — a hat that covers your ears, mittens over gloves, waterproof, insulated boots to keep feet warm and dry.
Avoid caffeine or alcohol as they hinder temperature regulation.
Portable space heaters can provide comfort during an outage, but need to be treated safely. When buying and installing a small space heater, choose thermostatically controlled heaters, which avoid the energy waste of overheating a room. Thermostatically controlled heaters also won't tax a generator. Select a heater of the proper size for the room you wish to heat. Do not purchase an oversized heater, as it may be a fire hazard for your home. Place the heater on a level surface away from foot traffic, and be especially careful to keep children and pets away from the heater.
For safety reasons, standard solar systems that are connected to the electric grid will shut down when there is an outage to your electrical service. Unless they are specially designed, solar systems will not provide back-up power during an outage. This function is required by national regulations so crews can safely work on the electrical system without the danger of electrical back feed onto the grid.
Esta información es importante.
Por favor haberlo traducido.
Cette information est importante.
S'il vous plaît veuillez faire la traduction.
Keeping your lights on
When storms are forecast, we monitor the weather for the latest updates and put crews and support staff on standby. When a power outage is reported, our response teams spring into action with crews dispatched to work on restoring service.
In the field, our damage assessment teams provide detailed information efficiently and safely, allowing us to produce accurate estimates of when power will be restored. We provide power outage updates on the web's outage map, Twitter and Facebook.