Image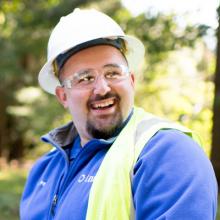 Today's right tree planted in the right place is a successful tree for the future. In the wrong place it can cause issues for everyone.
Dave Clapham
Forestry Supervisor, MA Forestry Operations
Main initiative details
The Storm Resiliency Program consists of enhanced tree pruning and increased hazard tree removal work. Crews are setting up to remove identified trees in selected areas of our Capital New Hampshire and North Central Massachusetts territories this year. Unitil has completed similar programs in the southeastern region of New Hampshire in 2012, 2014, and 2016; in the Capital Region of New Hampshire in 2013 and 2015; and in Massachusetts every year since 2014.
By consenting to this important tree work, you can help prevent power outages in your community.
To accomplish this, we wish to achieve ground-to-sky clearance that would include the removal of trees and branches growing above our electric wires as well as the incompatible trees growing underneath them that could cause future problems. Please refer to the brochure below.
Frequently Asked Questions
The work will be performed by professional line clearance crews as part of our maintenance service.
How does Unitil proceed with the work?
If tree work is needed on your property or on town land abutting your property, you will be contacted by our representatives to discuss the work. Our representatives are trained in hazard tree identification and are knowledgeable about the scope of our projects. They will be seeking your consent to proceed with the necessary tree work.
How are landowners notified of the work?
Nearby landowners receive a hand-delivered brochure describing the program in detail and are always given an opportunity to discuss the work with a trained arborist.