Hampton, NH
A group of middle schoolers got a first-hand look at life in the utility industry and some may have even found inspiration for a future career during a recent visit to Unitil as part of a unique University of New Hampshire program that helps put many of the state's first-generation college students on a path to success.
The 26 seventh- and eighth-graders from Rundlett Middle School in Concord toured the company's electric operations facility in Exeter and its corporate headquarters in Hampton, where they met with employees and learned about the important roles they play, witnessed a controlled natural gas explosion during an educational demonstration, and walked away with personal laptops as a surprise gift to help them on their academic journey.
"We were all very impressed by these students and their passion for learning. They were curious, asked lots of great questions, and clearly had a drive to understand more about the industry," said Alec O'Meara, Unitil Manager of External Affairs. "We're pleased that we were able to open our doors to these young people, which we hope will open even more doors for them in the future."
The students are part of a program known as Educational Talent Search (ETS), which increases educational opportunities for New Hampshire youth by providing academic advising, career planning, financial literacy and other assistance that encourages them to complete secondary school and pursue postsecondary education.
More than 1,200 students from middle and high schools around New Hampshire are enrolled in ETS, which is based at UNH. It is part of the federally funded TRIO program and begins when students enter the sixth grade. Advisers remain with them to provide guidance through high school and stay connected even after they enter college – many as first-generation students.
As part of their learning experience, the students participate in job site tours while focusing on career and college awareness. It's the first time Unitil has hosted the students. "We want students to picture themselves being successful and picture themselves having a job like this so they understand that's why you need to work hard in school," said ETS Associate Director Dr. Melissa Goyait.
During the tours, Unitil employees from all levels spoke about the company's electric and natural gas operations, various career opportunities, and how they began working in the industry. Students also had a chance to try on some of the heavy protective gear worn by lineworkers.
The visit was especially meaningful for Kashena Window, an emergency planning specialist at Unitil, who shared the positive experience she had while enrolled in the program when she was in high school. "Like you, I was a first-generation college student, not just in my immediate family but my entire family, so I didn't really have anyone to go to for advice. I definitely thought the program and the resources it provided me were amazing and I hope you all have a wonderful experience," she told the students.
Goyait emphasized the importance of connecting with the students when they're young and establishing a relationship built on trust that remains strong throughout their middle and high school years. "The middle school period is really about planting the seed that 'You can do this.' If I've known a kid since they were in sixth grade and they're a senior, they're going to listen to my advice. It is a true honor to work with these students and be a part of their lives from sixth grade into college. I get inspired by watching them overcome many obstacles and achieve amazing things," she said.
One of the highlights of the visit was the moment when students learned that each would be receiving a laptop donated by Unitil to assist with their educational experience. The laptops were previously used by the company and were slated to be recycled. They were completely refurbished and given to the students as a way to give them new life and reduce the amount of waste generated by discarded electronics.
The gift came as a relief for seventh-grader Calli Lockwood, who had been trying to figure out what to do after her old laptop was recently damaged. "I have a little shelf where I put my water and my metal water bottle fell off and onto my computer," she said as she and other students smiled while rushing to open their new laptops to begin setting them up.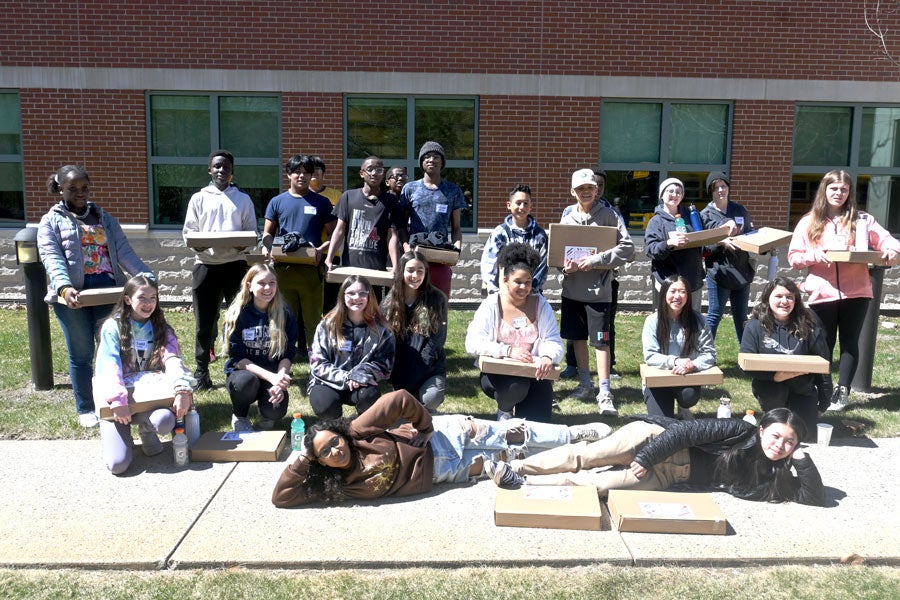 ​
Several students said the visit allowed them to learn about jobs they never knew existed.
"I thought it would be more about electricity, but I got to find out about more jobs beyond the electricity part of it. I was very interested in the equipment because my step-dad does tree work. Some of the equipment looked a little bit familiar so I got to look into it more," said seventh-grader Alexxis Perry, who was also interested in learning about the company's corrosion control efforts to protect natural gas pipelines.
Eighth-grader Kyla Ngu had a similar experience.
"It was really cool how there was more to it than what we thought. When you think of Unitil and electricity, you think it's just one profession or job doing everything, but then you realize how complicated it is and you see all of the different positions behind it. It's not just electric men working here. You see the bigger picture," Kyla said. "We could definitely tell that it's a very hard profession for the linemen especially."
Dhruva Khyri, also an eighth-grader, enjoyed checking out the utility trucks, learning about their function and touring the electric operations center in Exeter, which is the company's newest facility and was built with many sustainable features. Dhruva is hoping to pursue a career as a software engineer in college and has found the ETS program to be beneficial.
"It helps a lot. We learn about college and how to advance through it and perform better so that we can get into higher education jobs," he said.
Photo Captions:
Teaser image: Patrick Aquilina, Manager of Electric Operations for Unitil's Seacoast region, explains the importance of protective gear to students from Rundlett Middle School during their recent visit to the company's Exeter and Hampton facilities.
Top image: Students from Rundlett Middle School in Concord react with excitement as they receive donated laptops during a recent tour of Unitil's Exeter and Hampton facilities.
Middle image: Students from Rundlett Middle School with their newly donated laptops outside Unitil's corporate offices in Hampton.