Hampton, NH
Unitil Corporation, (Unitil.com), a provider of natural gas and electricity to customers in New England, has worked closely with a group of college students committed to creating a sustainable future as part of a unique summer internship at the Shoals Marine Laboratory (SML) on Appledore Island.
Students from the University of New Hampshire, Cornell University and Tufts University participated in the month-long sustainability internship program that gave them a chance to work alongside SML staff, Unitil engineers and other professionals as they researched ways to address the challenges facing a remote island that maintains its own electrical, drinking water, wastewater management, and saltwater systems.
The four sustainable engineering interns arrived on the island on June 13 and wrapped up their work on July 11.
The largest in the chain of rocky islands that make up the Isles of Shoals, Appledore Island sits seven miles off the Maine coast and is home to SML - a premier marine research and educational facility that has spent over five decades working to create a green power grid and other sustainable systems.
Jointly operated by UNH and Cornell, SML provides research opportunities for undergraduate students interested in marine biology and sustainable energy.
For 16 years, Unitil has partnered with SML to offer the island internship program, providing mentors for the engineering interns and a communications intern who tells the stories of their sustainable engineering work.
"This is an exceptional partnership that allows students passionate about engineering to work closely with our engineers and others in the field. The electric microgrid relies on a variety of energy resources, and through their work, the interns are able to get hands-on experience while living and learning on the island," said Alec O'Meara, media relations manager at Unitil.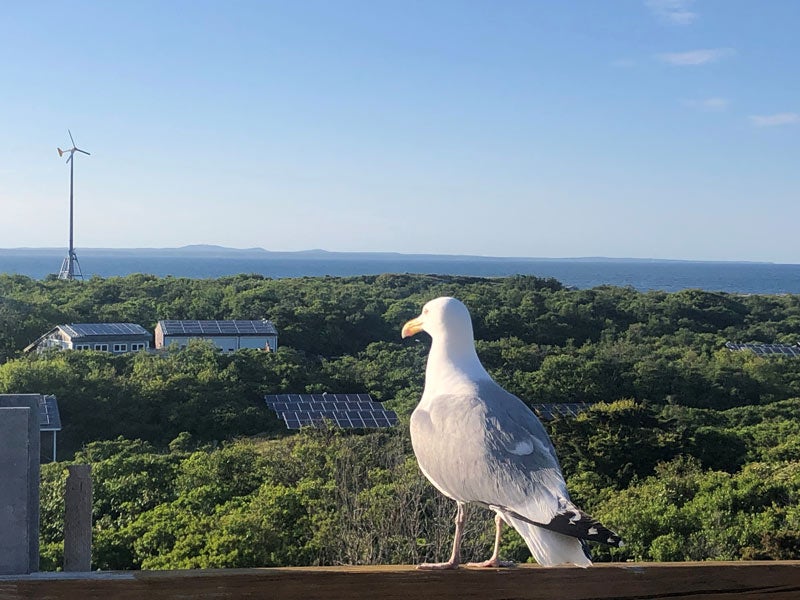 This summer's interns worked on a number of projects that included a study of the energy produced by a new wind turbine; designing a more efficient rainwater collection system for the pocket garden once maintained by 19th century American author Celia Thaxter; preparing a report that included ways to improve the sustainability of the current drinking water and wastewater systems; and identifying sections of road at risk of washing out during heavy rain as well while designing improved drainage to prevent future problems.
Through their work, the interns helped SML better understand the relationship between the island's reverse osmosis unit, which turns seawater into freshwater, and well water production.
They also studied the materials used in the lab's drinking water system and made recommendations that could be helpful when components need to be repaired or replaced.
"If we find out that a certain type of pipe requires an incredible amount of carbon emissions to make it and transport it here, we can recommend that if you have to replace this pipe, maybe replace it with something else," said Tess Hays, an intern from Stratham, N.H., who's majoring in chemical engineering at Tufts University.
Jennifer Seavey, SML's executive director, praised the interns for their contributions to the island's future.
"This year's group was very enthusiastic about island life across the board. They engaged with the marine scientist, kitchen chefs, and everyone in between. They really soaked up the experience," she said.
Seavey said SML would not be the model of sustainability that it is today without the approximately 70 interns who have worked hard each summer to find solutions to the real-world challenges facing the island.
With their help, Seavey said diesel use on the island has been reduced by 90% over the last decade.
Their award-winning work has also turned the island into a model for solving challenges in other island communities and beyond.
"There are many lessons to be learned from the sustainability efforts that we're seeing on the island. What's being done out there is especially relevant as we look toward creating a sustainable grid on the mainland," O'Meara said.
Seavey described the students as the future of sustainable engineering solutions. "We are thrilled that SML gets to participate in preparing them," she said. "Many of our interns move forward to successful engineering careers. I love when they come back and mentor the next generation."
The interns had the opportunity to work with and learn from Jacob Schactman, a sustainable engineering intern in 2018 who now works for Wright-Pierce, an environmental engineering firm.
"I love learning about solutions to unexpected problems in the infrastructure we all rely on. I really appreciate it when engineers can make essential behind-the-scenes systems like wastewater treatment sustainable socially and environmentally," said Jason Shao, an intern from Lynbrook, N.Y., who is studying environmental engineering at Cornell.
Sustainability communications intern Tamara Kamis of Lexington, Mass., a senior at Cornell majoring in biology and society with a minor in science communication and public engagement, called living and working with the engineers and scientists a "fascinating learning experience."
"Being at Shoals, where the vast majority of the energy we use is from wind or solar, has made me more optimistic about the future of renewable energy," she said. "Shoals has a warm, collaborative, and curious culture. We all learn from each other and work together to keep the island running smoothly."
For more information on SML and the sustainable engineering internship program, visit shoalsmarinelaboratory.org.

Photo cutlines:
Top: Sustainable engineering interns inspect a flood control culvert during their work at the Shoals Marine Laboratory this summer.
Inline: A gull looks out over the wind and solar facilities on Appledore Island.