Exeter, NH
Electric vehicle enthusiasts and others eyeing the switch from gas-powered to EV got a chance to check out the latest on the market during Unitil's 2nd Annual "Ride & Drive" expo.
Unitil hosted the public event at its electric operations facility in Exeter on Saturday, Nov. 4, in partnership with Drive Electric NH, which is coordinated by Clean Energy NH.
The expo featured eight vehicles from local dealerships, which included McFarland Ford of Exeter, Volvo Cars of Exeter, Enxing Kia of North Hampton, Porsche Stratham, and Green Wave Electric Vehicles of North Hampton. In addition, 10 personal vehicles were also available with owners who were able to share their personal EV driving experiences with visitors, who also had a chance to test drive some of the vehicles.
"More and more drivers are transitioning to EVs, but there are still many who have questions about the innovative technology behind these vehicles," said Unitil External Affairs Manager Alec O'Meara. "This event was a great opportunity for people to get their questions answered from those with first-hand experiences, and we know many who attended saw the clear value these vehicles can provide New Hampshire."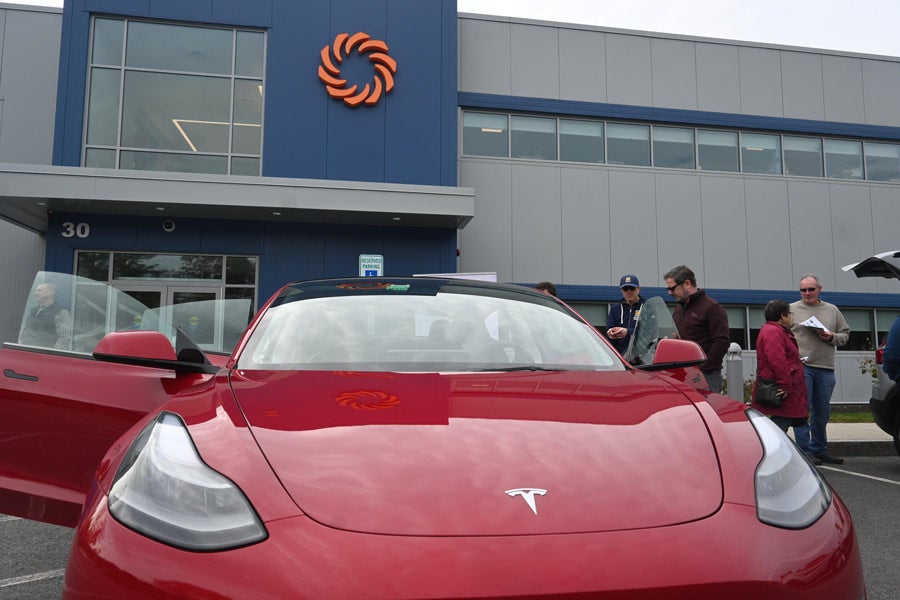 Representatives from Clean Energy NH, ReVision Energy and Granite State Solar were on hand to answer questions as well.
Stratham resident Steve Greenwood and his wife were among the visitors who stopped by as they're in the process of weighing their options for purchasing their first electric vehicle. They installed a solar array at their home with plans for EV charging in the future using the additional power they're generating.
"We're looking for something that's more like an SUV type that's easier to get stuff in and out of the back and whatnot," he said.
Demand for electric vehicles continues to grow with more than 3 million EVs on the roads in the United States, but EV sales here are expected to account for 40-50% of all passenger car sales by 2030. Locally, registrations for electric vehicles in Maine, Massachusetts and New Hampshire have more than doubled since 2020. According to the U.S. Department of Energy's Alternative Fuels Data Center, the latest statistics for 2022 show there were 7,000 electric vehicles registered in New Hampshire, 49,400 in Massachusetts, and 5,000 in Maine.
James Penfold, director of eMobility Solutions at ReVision Energy, owns an EV and works with business owners, community leaders, and government employees to develop and build EV charging projects.
"These events are great because you can talk to real drivers and get their personal experiences with them. You're able to see a lot of different makes and models, and I can tell them personally what kind of range I would expect and how easy it is to charge," Penfold said. "The main takeaway is for people to get comfortable with the ownership experience because there's a lot of anxiety around switching from the gas model and for some people it might be a genuine consideration if they can't charge at home, but if you have the possibility to charge at home it could be a much better experience. I love not having to go to gas stations."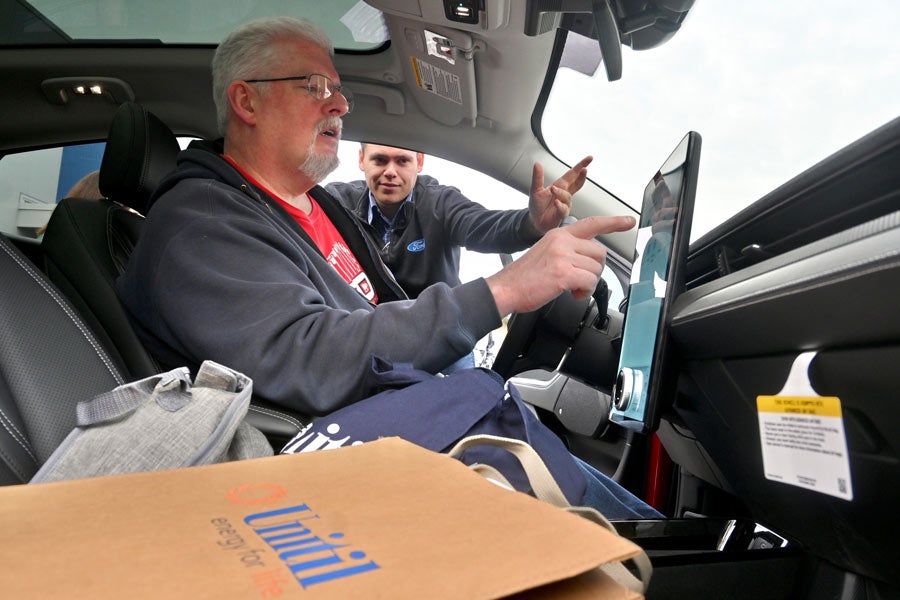 Nicholas Dolle, a sales consultant with Enxing Kia, brought an EV6 GT-Line Long Range for visitors to check out and take for a spin. He said the most common questions he's asked by prospective buyers relate to range, charging convenience, and EV tax credits. "Range is the big one, but with the EV6 GT-Line Long Range, when I say 282 miles, their faces usually light up," he said.
A self-described techie, Zeke Schmois of Kensington upgraded his Tesla Model Y to the slightly larger Model X to accommodate his growing family a few months ago and was on hand to let visitors see it for themselves.
"I want to answer their questions and dispel a lot of the myths about EVs. Ultimately, I just have a lot of fun with them. I'm a techie guy and I enjoy it," he said.
Schmois shared his experience driving for seven hours north to Canada on a cold February day. He said the trip went "surprisingly well." He stopped once to charge for 25 minutes and grab lunch and then he was back on the road. "It was pretty seamless," said Schmois, who is also chairman of the Kensington Energy Committee.
For Unitil electric customers who currently own an EV or are looking to purchase one, O'Meara pointed out that they could save money on charging by signing up for Unitil's EV Time-of-Use rate, which is available to residential and business customers in New Hampshire and residential customers in Massachusetts. Time-of-Use rates offer a different price for electricity based on the time of day when it's used. Customers could see potential savings by shifting tasks that require electricity to off-peak hours when electricity costs are the lowest. For more information on EV Time-of-Use rates, visit https://unitil.com/time-of-use/ev-tou.
Photo cutlines:
News Item Photo (previous page): Unitil's 2nd Annual "Ride & Drive" expo held at its Exeter facility gave visitors an opportunity to check out a variety of EV makes and models.
Top Right Photo: Unitil's 2nd Annual "Ride & Drive" expo was an opportunity for those exploring their options for electric vehicles to learn more about the latest innovations in EVs.
Middle Photo: A Tesla was among the vehicles available for visitors to check out during Unitil's 2nd Annual "Ride & Drive" expo held at its Exeter facility.
Last Photo: James Donovan of East Derry, N.H., sits behind the wheel of a Ford Mustang Mach-E 4X while checking out Unitil's recent "Ride & Drive" electric vehicle event.