Hampton, NH
Unitil Corporation, (Unitil.com), a provider of natural gas and electricity to customers in New England, recently held its annual emergency preparedness and response coordination meetings with state and local officials and provided the first public tours of the company's new mobile command center and its regional facility in Exeter.
The meetings, which were held at the Grappone Conference Center in Concord on May 3 and Unitil's Exeter facility on May 5, were the first to take place in person since 2019; meetings over the past two years were held remotely due to the COVID-19 pandemic.
Police, fire, public works, municipal, regulatory and elected officials were invited to attend the meetings to learn more about the safety of Unitil's electrical system, including emergency response procedures and communication protocols.
"These meetings really highlight the need for utilities, first responders and other stakeholders to work collaboratively to prepare for and respond to an emergency event," said Alec O'Meara, Unitil's media relations manager. "While these are an opportunity for us to share safety information and other critical resources, it's also important for us to hear from officials at the local, state and regional levels so that we can find ways to improve our coordinated efforts and communication."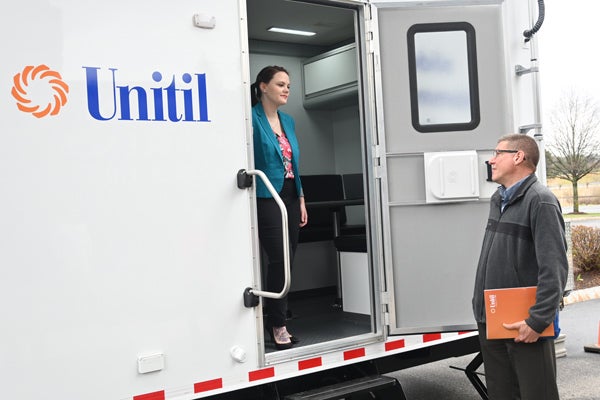 Attendees had a chance to tour Unitil's new mobile command center, which serves as a mobile office and centralized communications hub for crews to manage field resources and operations.
The meeting held at the Exeter facility on Energy Way was also an opportunity for participants to check out the 54,000-square-foot building, which opened in late 2020 and serves as the new home for Unitil's Seacoast electric distribution operations as well as its forestry, engineering and centralized electric dispatch teams.
The facility serves as the Emergency Operations Center (EOC) for the region and supports preparation, damage assessment, public safety, and restoration efforts as the hub of local operations.
Sara Sankowich, director of Sustainability and Shared Services at Unitil, led the tour and pointed out many of the building's environmentally friendly and energy efficient design features.
Exeter Police Chief Stephan Poulin was among the local emergency officials who attended and participated in the tours.
"Like other public safety agencies, our department works closely with Unitil during storm preparations and following significant weather events. This was a good opportunity to strengthen that partnership," Poulin said. "The deputy chief and I also had a chance to tour Unitil's new Exeter facility for the first time and were very impressed with the design and the sustainability elements that were incorporated into the building, and its location right off Route 101 should certainly improve the response to outages locally."
Photo captions:
Article teaser: Sara Sankowich, director of Sustainability and Shared Services at Unitil, explains some of the design features while giving local emergency officials a tour of Unitil's regional facility in Exeter last week.
Article image (right): Local emergency officials listen in as Sara Sankowich, director of Sustainability and Shared Services at Unitil, gives an overview of the company's new regional facility in Exeter during a tour last week.
Mobile command center image (in text): Kashena Window, emergency planning specialist at Unitil, shares information about the company's new mobile command center with Bob Christensen, operations chief with the New Hampshire Homeland Security and Emergency Management, during Unitil's annual emergency preparedness meeting in Concord last week.