Stat Grid Items
1,100
light fixtures converted to LEDs
181,000
kWh annual savings
$112,714
Energy efficiency rebate
Image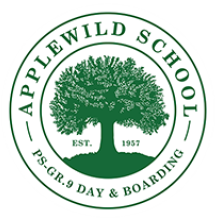 We did our homework, allowing us to leverage great incentives that reduce energy and maintenance costs while improving student and staff experiences in the school.
Amy Jolly
Head of Applewild School
Main project details
The project included updating approximately 1,100 lighting fixtures in 10 buildings with new LED fixtures and controls.
Founded in 1957, the private pre-K through ninth grade school on Prospect Street, anticipates saving 181,000 kWh in electricity annually, which is equivalent to about what 25 homes use yearly.
Because the school qualified for a $112,714 energy efficiency incentive, its payback period is shortened considerably. "These energy efficiency rebates are designed to help offset the overall project cost so the users start realizing savings much sooner and more importantly use less energy," Alec O'Meara, media relations manager for Unitil, said.